So Much Bigger Than Hip Hop
Here in the Midwest we are known for an array of talent. We have no real signature sound; it seems we have more or less a melting pot of all the coastal sounds spread out throughout our cities. Needless to say there are certain artists here that have contributed to our arts growth abundantly, but unfortunately it seems like we are getting in our own way! Now, I know some may be uncomfortable with the direction of my words but rest assured I love Ohio's talent. Hell, Suave Goddi named me "Undergroundkween" because I went to and supported SO MANY live shows here in Ohio! The Hip Hop scene in Cleveland is quite impressive. If you know me I'm sure you've come to realize that I have a love/hate relationship with this "mistake on the lake" as many of you do. But in the long run Cleveland's cultural entertainment scene, specifically Hip Hop is one of the best I've come across! Being a Hip Hop Activist/ Promoter for the last 5 years has brought me to the realization that if we could seriously step our game up on the familial side, we'd definitely be a city to reckon with when it comes to talent.
Last year I was blessed with the opportunity to attend the SEA (Southern Entertainment) Awards as a representative for Hip Hop Battles. As a former back packer in regards to my taste in Rap music my taste has always leaned to the more conscious side of Hip Hop. And in all honesty it still does for the most part but the Baltimore roots in me always needed the libation that only southern rap can bring. The relentless baselines and catchy hooks, the often fun related topics and humorous delivery, and the raw nature of expression are so prevalent in southern rap! The SEA Awards gave me a new appreciation for not only the art itself, but the unity business-wise that the south is so well known for. Now we all have our cliques and we all rep for "our people" but for some reason the south don't seem to let that stand in the way of promoting their region as a whole.
"The Reason Is They Take Pride In Breaking Records and Supporting
Their Hood Stars." The South Has Been Taking A Back Seat Since Hip Hop
Has Started, So Now They Just Finding Their Swag or Their Lane." The
Explosion of Southern Music Is Organic." It Was Bound To Happen and
Eventually Catch The Eyes of New York -or- LA Label Check Writers and
Executives." "Now it's Slowing Down A Bit, Cause The South Audience
Wants Quality Music." So Only A Few Are Gonna Stand Out These Days and
Crossover To The Masses." "Not Everthing Is Going to Make It Thru the
Pipeline, But There Will Always Be That HOODSTAR Everybody Follows
Locally!"
-Feygens (ChuckieBigBux) HipHopFriends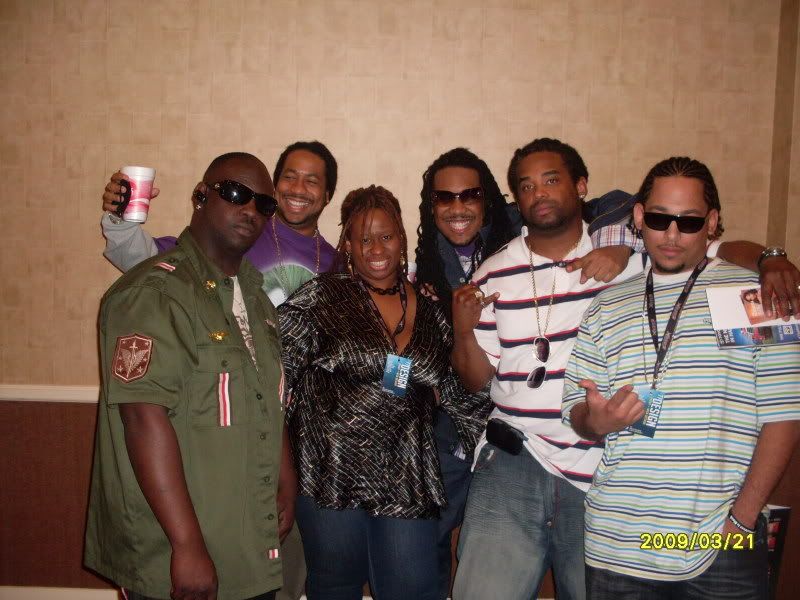 I also was blessed to attend the CORE DJ Retreat in Atlanta in April and during that I also noticed that professionalism and presentation was a HUGE deal for artists. Now I'm not saying that here in OHIO we aren't professional, but gone are the days where you can just burn your demo and write your name on it in Sharpie marker and stick it in a plastic sleeve. Or should I have said these days SHOULD be gone. The promo fliers, the press kits, the demo cd's all professionally manufactured. The presentation speaks for itself! And rarely was there an event that wasn't packed by supporters, fans, and other industry movers and shakers. You might think southern hospitality is a myth that has been passed on but there is something to be said about an entire region uniting for the greater good of them all, not to mention all the lovely accommodating people who overextended themselves to me while I was there.
Now overall I have to say that a lot of the music I received wasn't necessarily the bee's knees, but the south is on THEIR GRIND! I suppose it's why I plead so much with my Cleveland fam. Every classification one can associate themselves with in this city we do as to further distance ourselves from each other in unity as a whole. And no I'm not saying that its just Cleveland or OHIO, but I gotta do what I can to get my house right, RIGHT?
"As far as the Midwest is concerned we need to STOP HATIN' on one another and start working together like they do in the South!! Stop worrying about getting paid for doing a feature on a track and get that on the back end when the record starts making noise. In the Midwest we need to start building relationships and repores with each other, artists, label reps, DJ's, producers and writers!!! STOP TRYING TO BE A STAR before you're actually a star!!!"
-Big Al (Twitter: BigAl350) CoreDJs.com
With the OHIO HIP HOP AWARDS coming in September the Ohio streets are full of a buzz of both skepticism and enthusiasm. Do we support or do we not? Do I get off my ass and put in work to make this scene greater for the whole, or do I sit on my ass at home, freakin my milds and sippin brew, to further project a negative light on your city and quite frankly yourself? Do I only go to the shows "my crew" is affiliated with, or do I try to support as much as I can with anyone's quality venture? DO I HATE HATE HATE, or do I appreciate the initiative of some thirsty passionate potential entrepreneurs/ business associates. You tell me! Better yet, ask yourself WHAT are YOU DOING to make this movement better? I'm anxiously anticipating feedback! Peace & Blessings Yah!